When I first began to get tagged for awards and such, I used to be super ecstatic. That's when laziness took over. It's been the ruling party for so long, but now, the opposition (me, basically) decided to make a move.
Today I'm going to be doing The Change Award, a really neat tag by my good friend Gracie, in celebration of her well-deserved 500 followers! *confetti*
So this time, I'm going to be taking a different angle. Since these questions are rather thought-provoking and I like making things unique, I decided to write my answers in verse. 😀
The Rules: 
Link back to me, as well as whoever nominated you (check)
Include this: I, Gracie Chick of A Light In The Darkness, created this award to highlight the importance of young people taking responsibility for the future of their world. The Change Award also gives them the opportunity to share with others what they believe in. (okay, I suppose that does it)
Answer the questions below (I'll get to that)
Nominate as many people as you like. (that'll be at the end)
---
Okay, guys, let's plunge right in!
Make a list of the things you want to change about schools.
May learning not imprison us
But rather set us free
May grades not be stamped on us
Like they're our identity.
May we be taught that what we're learning
Is really for the good
And the reason to seek knowledge
Is not simply because 'we should'.
Make a list of the things you want to change about local communities.
May kindness be a weapon
Over society's constant hate
May people learn to respect opinions
And learn to coordinate
May hearts welcome each other
And love, not lies, be exchanged
And when we look back later
May we beam upon the change.
Make a list of the things you want to change about the world, your world.
I want to seize every joy
And fill it into cartons
And take it to my inner world
And finally care for its gardens
Then I want to pluck their flowers
Before they wither and fall down
And proudly place them atop my head
Like a flower crown.
---
Now that that's done, here are my nominees (I have tried not to include the ones already nominated, so there)-
Madi
Arunima
Michele
Rutvi
Rae
Rebekah
Lissa
Clara
I'm sorry if I missed you! If you want to do this, there's nothing stopping you. 😉
---
Highlights from January
I GOT SO MANY DESIGN ORDERS I ALMOST DROWNED IN THEM
My average bedtime is now 11 pm. I suppose that's enough said. -_-
So far I've had 20+ clients, all in a matter of three months from starting Design Pique Studios, my free web design service! Okay, it's getting hectic, but sometimes I have to admit that hectic is fun. Plus, it's one of the main reasons I haven't been around in a while.
Right now, the site's on hiatus because it's getting too much for me to do at once, plus I've got waaaay too many exams coming up next month. But some new updates to the site since I first created it is a video which you can see on the home screen, plus a Portfolio page for all my projects.
I STARTED ATTENDING ALICIA SOUZA'S DESIGN MENTORSHIP PROGRAM
Okay, you have NO IDEA how excited I was about this. A couple months back I entered a mentorship program, and I was all over the place when I found out that I got selected and- maybe you should check out my post on Design Pique in which I talk all about it and drive you mad. That'll be much easier.
I READ FIVE BOOKS (working on it), AND BOUGHT THREE PHYSICAL ONES
Haha, five books is nothing for some of you, I know. BUT with my crazy life and orders and assignments from my program alongside, that's saying something.
Also, we bought three books. OH, COME ON. We never buy physical books. My dad always insists on ebooks because they don't take up too much space. If you want to know what made him change his mind this one time, it'll be quite a bit of a story.
We were on vacation to Bombay, and then somehow we figured that there was a certain "book street" in Colaba (read more about that here). I had no idea what that meant. Being a curious family, we decided to check it out.
If you're a book lover, this is one of the reasons you have to visit India.
It was- you guessed it- a complete street lined with tons and tons of books. Secondhand books. For about half the usual price.
Naturally, I went cuckoo, and so did my dad.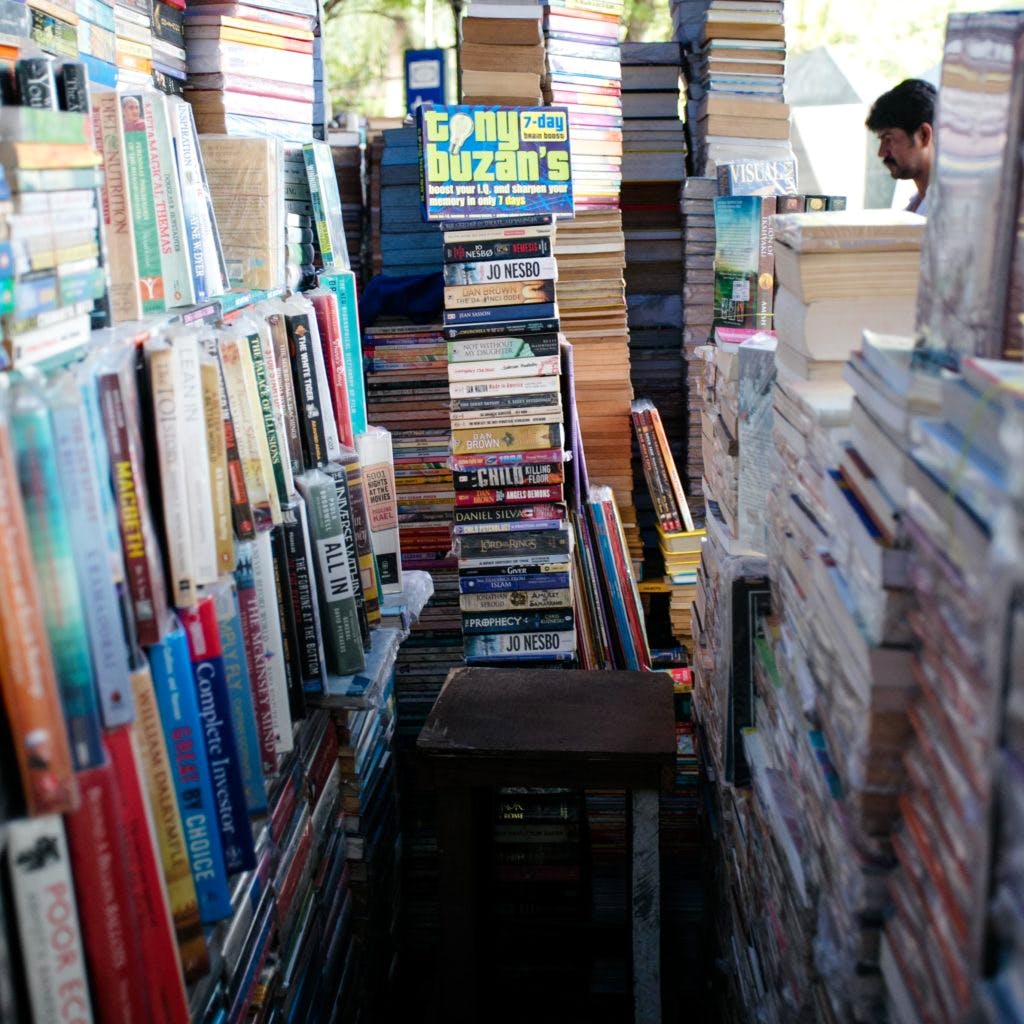 MY ART RATE WENT DOWN AND THEN… IT CAME UP
I hardly did any art in January. And, well, this probably doesn't count as a January highlight, but today I took part in a painting competition in our locality. It was conducted by the husband of a late artist, which made me feel nice about taking part.
There was no theme, and I had no time to think something good up, and what I ended up with was… this. Excuse that it looks sort of dark.
Another little detail is there were three age groups and one winner was to be chosen from each, and my painting won in my category. 😀
I'm not going to talk too much about what my prize was, because I don't like talking about things like that. But I would like to mention that it included a paintbrush which that late artist used to use, and I will treasure it forever. ❤
---
The Hiatus
Yep, the worst part.
Orders are too much for my puny being to handle. Plus exams. And then there's life. This site's going to be taking a bit of a rest for a few months, but hey, a few months! I'll be right back in late March. I may sneak in that occasional post, with updates or something like that, and I will be reading and commenting on your posts, but no consistency.
We all need a break once in a while, hm? 😉
---
Thanks to all of you for reading! See you here again in March, and I hope you have a lovely day!